Convert CSV to a HTML Table
Convert CSV (comma seperated value) files into HTML Tables quickly online.
Copy in the CSV and click Get Results button. HTML results appear in the lower text area and can be copied out.
---
CSV Input
CSV,HTML,table
1,2,3
4,5,6
CSV now HTML table code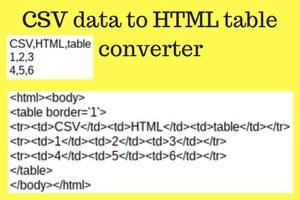 ---
Copy and paste the lower table results into a text editor and save as a file name with .html extension.
Or copy and paste table to /table section into an existing webpage code using an editor.